Tribute Banners
The easiest and fastest way to personalize a service.
Tribute Banners $458
3ft x 6ft personalized portraits including six 8" x 10" matching portraits per order. Choose from over 100 exclusive designs.
Tribute Display Systems
These dramatic displays showcase each portrait and create
unforgettable centerpieces for your funeral and memorial services.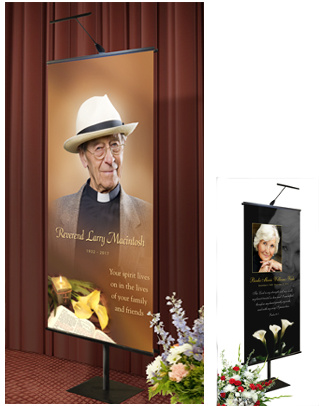 Dramatic Tribute Banner Display for
3ft x 6ft Funeral Portraits
Kit includes adjustable heavy duty tripod, valance, halogen light & bulb, epitaph book, and sample portrait. Banner funeral portraits are popular for both VIP funerals or creating a special personalization centerpiece for an inexpensive memorial service.
$575